Search for free capacities
You can very easily find wagons or locomotives on Railvis platform, just type down the needed location, basic technical parameters, date period and you find all possibilities on the market, with precise location on a map, price and technical parameters. You can compare all of the offers and decide the most suitable one for your needs.
Dashboard
From the dashboard you go directly to the search button for wagons or locomotives.
Offers
You search available market offers based on location / date period / series – type of wagons / goods / production year / cleaning. Railvis will show you all results in the list and on the map as well.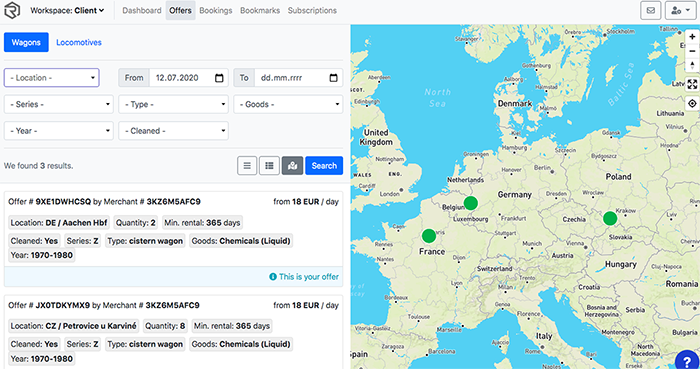 Bookings
You have an overview of all your previous and actual bookings where you see their current status – Awaiting Approval / Confirmed / Rejected / Archived.

Bookmarks
You can keep a record of your actual bookmarks you made for the offers you are considering.
Subscriptions
You can choose to subscribe to receive regular information to your e-mail about new available wagons or locomotives you are interested in.